All posts tagged internet sillies
Shamelessly filched from Twitter: possibly the best totally-unofficial-Lost-spinoff-ever.
May I present: Jackimals.
Oh, yes.
Posted by loummorgan on March 17, 2011
http://loummorgan.wordpress.com/2011/03/17/jackimals/
I love me a bootleg. I do. The more conspicuously rubbish, the more tenuous the link, the better.
Take any of The Asylum's output–or better still, take all of it (Transmorphers, anyone? Snakes on a Train?). Have I seen any of it? Christ, no. Whatever do you take me for? But do I love the idea? The sheer out-there-ness of it? Absolutely.
This has been doing the rounds for a day or two now, but how–how, I ask–could I not?
Welcome to the alternative childhood: a strange world where the bootleg toys are almost better than the real deal.
Step through the wormhole, wonder as the universes collapse and bring you the joys of…
Darth Vader: Star Knight!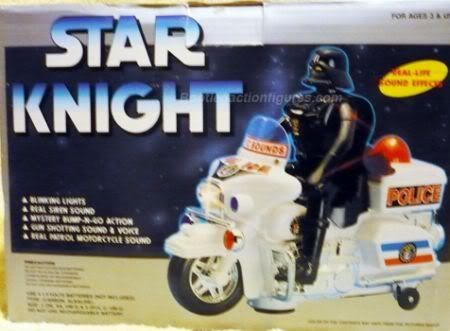 or – Archer-Spiderman (and his sidekick, Angler Spiderman)!
Brilliant, brilliant things. And when I say "brilliant", I mean "crap".
But if this is your bag (and let's face it, it is. Go on, admit it: it's everyone's bag) there's an entire site dedicated to them.
I, for one, will be holding out for a Silverbat from Santa.
(Bonus points and virtual cookies, by the way, if you correctly spotted the poorly-bootlegged title…)
Posted by loummorgan on March 9, 2011
http://loummorgan.wordpress.com/2011/03/09/the-toy-chest-of-dr-carbonara/
Not quite. But dear gods, there's nothing about this I don't like. Nothing.
Ladies! Gentlemen! Unspeakable Old Ones from beyond the deeps of time! I present…
The Adventures of Lil' Cthulu.
Posted by loummorgan on November 25, 2010
http://loummorgan.wordpress.com/2010/11/25/my-little-cthulu/
I know the world and his wife (and their cat) will have seen this by now, but it made me laugh something chronic. I particularly like the little stormtrooper who flat-outs right at the end…
Posted by loummorgan on August 17, 2010
http://loummorgan.wordpress.com/2010/08/17/the-dancing-stormtroopers/
Recent Posts

Quick navigation

I do go on…

Categories

Archives

Meta

RSS